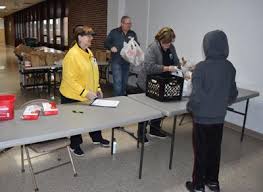 The free breakfast/lunch distribution continues today, Monday, starting at 10:00 am to noon at Fordson, Dearborn and Edsel Ford high schools; McCollough/Unis; Salina Intermediate; Smith Middle School; and Woodworth Middle School. The program will only be handing out food three days a week on Monday, Wednesday, and Friday. 
Each food bag will still contain both breakfast, lunch and milk for a child under 18, but now the bag will have food for each day until the next distribution.
The Dearborn Schools student does not have to attend that school to be eligible for a meal. A designated person can pick up meals for multiple children. The student does not need to be present.
Thank you and have a safe day! 
Translation services for the Important Information Contained in this Post are available by calling (313) 827-3092)
Arabic:
الأهالي والطلاب الكرام: تتوفر خدمات الترجمة للمعلومات المهمة الواردة في هذا المنشور عن طريق الاتصال بالرقم 3092‏- ‏827‏ (313)‏